Watch Aamir Khan on Intolerance & Delinking Terrorism from Religion, Full conversation Video-R&G Awards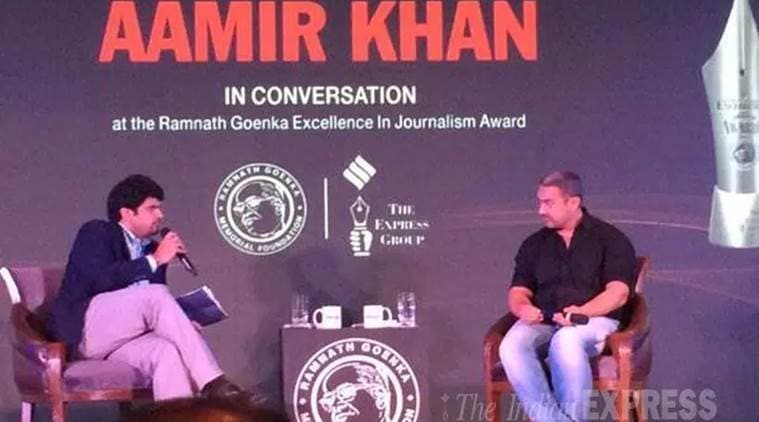 Watch Aamir Khan on Intolerance & Delinking Terrorism. Yesterday, In conversation with Anant Goenka, Wholetime Director & Head — New Media, The Indian Express, at the eighth edition of the Ramnath Goenka Excellence in Journalism Awards, Khan said a sense of "insecurity" and "fear" had seeped deep within society, even in his family.
After this Scenario, the whole country is shocked and everyone is talking about Aamir Khan, many have send the open letters to Aamir Khan, people are too much involved in this Discussion. The man who plays a leading role in Advertisements like Incredible India etc. is saying such words, "Intolerance", "Fear", "insecurity"
No one is satisfied with this, social media is flooded with only Aamir Khan's related posts only. More than 144K tweeted to Aamir Khan on this topic #Aamirkhan
Trolls and Mems are also going Viral on Aamir Khan's unexpected statement.
What you say about this Aamir Khan's Statement. Feel Free to Comment down in the comment box. You comments will be appreciated.
This is really a shame for our country and the people like this should leave this beautiful Country asap. Because this country is insecure for him. They fear to live in this country. India is the only country where all kind of people live, all religions etc. But the people like Aamir Khan's destroys the unity in religions, see now after this Everyone have started criticising the religion. Does it make really any sense. Stupid 🙁
Aamir Khan is the brand Ambassador of various brands like Snapdeal etc. and due to this people have started deleting Snapdeal apps and have started giving 1 start ratings in Play store. If this goes viral like this, Snapdeal will be in a big trouble.
Watch Aamir Khan on Intolerance & Delinking Terrorism
Watch the Full Conversation between Aamir Khan and Anant Goenka below :-
Video Source Via : IndianExpressOnline
Contect Source Via: IndianExpress